Over the years I have developed my own language of marks, color and balance of empty spaces, to the point that I Instinctively know what is right.

Barbara Macfarlane
Barbara Macfarlane graduated at the Exeter School of Art in 1981. Then she spent several years working and travelling all around India. Here she cofounded Khadi Papers, a company specialising in artist's handmade paper. Barbara lives and works in West Sussex. She has been involved for 10 years as a volunteer in the community based Partners in Art scheme at Chichester's Pallant House Gallery.
In 2012 she began a series of paintings that, while using all the painterly techniques of her established practice, borrowed daringly from the methods of cartography. And she applied them to the landscape of the modern metropolis. So the starting points for her new works are antique maps from the 18th and 19th centuries.
Always in 2012 she took part at the mixed exhibition "Londinium", at Rebecca Hossack Gallery in London. For this events she created three canvases inspired by William Smith's map from 1588. Both the original map and her paintings are full of red rooves and church spires.
London Maps
Edward Weller's map of central London (1862) inspired Red London series by Barbara Macfarlane. These paintings contains a maze of rich reds and oranges interrupted only by the calm blue line of the river Thames. Seems like London is condensed to a casket of jewelled shards.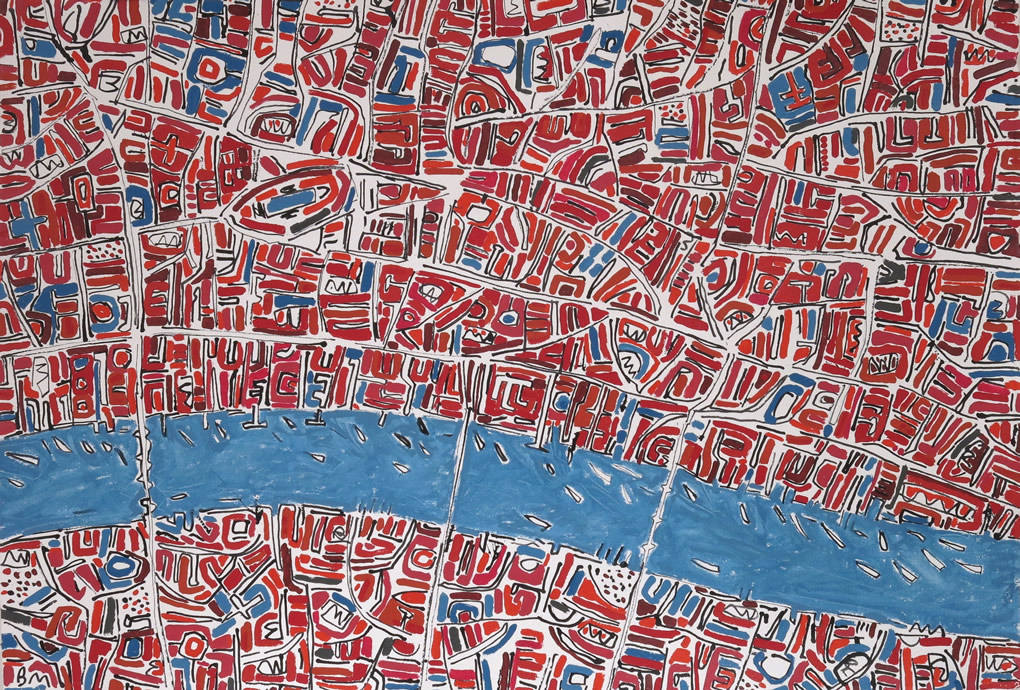 Manhattan Maps
Barbara most reiterative and compositionally simple work is Manhattan. In fact a grid of pigmented blocks creates a pattern, disrupted only by the raw diagonal of Broadway scratched across the surface of the paper. At the same time she give energy and vibrancy to her works thanks to the drawn marks of the streets and her free strokes. The colours of each map are rich yet subtle.
Paris Maps
Her new series of Paris maps are based on a Time Life map from the 1950s. Deep blues and greys of the lead rooves, with dark greens of the shutters and coffee cups, and the pale colour of warm stone are the colours which perfectly represent Paris. The shape of the Seine, the Ile de La Cite, the streets and avenues become tangible only by seeing this map.
Source and pictures from:
https://www.barbaramacfarlane.com